Another Step Forward
University Communications
Ruben Rakonczai
Ruben Rakonczai immigrated to the U.S. from his hometown of Göd, Hungary, with his parents, a suitcase and one purpose: to create a better future for his family.
As the only English speaker in his family at the time, his first step to that mission was setting the foundation for the transition. Rakonczai, who was just 16 years old, carried much of the weight of building a new life for his family on his shoulders.
"A lot of the responsibilities within my family shifted. All of a sudden, I had to figure out how to get myself enrolled in school," he says. "I had to help settle into this new life, figuring out different sorts of insurance, how to get a car, how to get a job."
Rakonczai took another significant step forward in his goal for him and his parents on Dec. 12 when he graduated from Carolina with a bachelor's degree in business administration and a minor in conflict management.
The celebration is the culmination of seven years of sacrifice and dedication that Rakonczai now describes as "whiplash."
Winning the lottery
Rakonczai's parents had entered the green-card lottery to immigrate to the U.S. because they had wanted to leave their home country's unstable economic outlook. The move, Rakonczai said, was necessary to find better opportunities.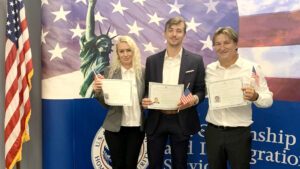 The family won the lottery and in 2015 moved to North Carolina near family friends. Overnight, Rakonczai went from an average high schooler to the person handling many of the logistics in his family's new life.
"It was very tricky, but thankfully my parents have always been extremely supportive and wonderful, so together, the three of us, we managed to bridge that gap and successfully move," Rakonczai said.
In addition to getting his family settled in Charlotte, he needed to figure out what he would do after he finished high school. Growing up, college hadn't been in the plans.
From Asheville to Chapel Hill
In Hungary, Rakonczai had trained for what he hoped would be a career as a professional water polo player. But after moving to the U.S., where the sport's popularity is nowhere near the level it is in Hungary, that plan went out the window.
Instead, he decided to pursue his interest in music. After high school, he enrolled in UNC-Asheville's music technology program with plans to minor in economics. But a future in music wasn't quite what he had expected. And after his first semester, his minor became his major, and he shifted focus to economics full time.
"Once I was in there, every day I was learning something new," Rakonczai says. "It opened my eyes to a very broad range of potential careers. Within economics, I was very interested in the finance side of things."
After two years at UNC Asheville, he transferred to Carolina and enrolled at UNC Kenan-Flagler Business School.
"Chapel Hill seemed like the absolute best option," he said. "I toured the campus and fell in love with it. I wanted to stay in a public school in-state for financial reasons, and it was absolutely the best choice. Chapel Hill clicked perfectly and checked the marks in all the boxes."
Rakonczai saw doors open to more fields and career options within finance. After taking an investment banking bootcamp at UNC Kenan-Flagler, he knew he had found his future career and dove headfirst in the classroom and outside of it. He took internships with Capital One, Truist Securities, Cherokee Capital Holdings and worked as a financial analyst for Carolina's applied physical sciences department.
The next chapter
The internships and courses at UNC Kenan-Flagler, Rakonczai says, have prepared him for his next move. After graduating, he will return to Truist Securities in New York City as an investment banking analyst.
First, the Rakonczais will celebrate graduation together in the Smith Center. The milestone, Rakonczai said, is about more than just him. Though his name will be on the diploma, graduation will represent an achievement for his whole family.
"My parents made a lot of sacrifices to make this available to me," says Rakonczai, who will be the first in his immediate family to earn a college degree. "Me getting this degree is as much an accomplishment for them as it is for me because they really put in a lot of effort and gave me a world of support to be able to do this. It means the world. And hopefully, it will improve the quality of our life."
His graduation will also mark the start of the next phase of the goal set when they immigrated seven years ago.
"The next step will be looking to help them out in getting a house finally so they can fully settle down," he said. "That's the next step. We're all very excited."
---
More News