Choosing a Career Path that Supports Others
August 26, 2020
Kenan-Flagler Business School
Chelsea Vickers
Chelsea Vickers (BSBA '20) has a strong sense of purpose: building inclusive communities while empowering individuals with diverse backgrounds.
That purpose drove her during her time at UNC Kenan-Flagler and to her career path.
When looking at colleges, Vickers was interested in business, but she had decided against going straight to business school. What if she got stuck on a narrow corporate track? UNC was the perfect compromise: a top college with a stellar business school she could apply to when she was ready.
When she first arrived at UNC from Waxhaw, North Carolina, she kept her options open, but ended up applying to the Undergraduate Business Program (UBP) at UNC Kenan-Flagler. Far from finding a stifling pressure to specialize, Vickers was surprised by how safe she felt to experiment with her career once she got in.
"I came in with the expectation that everything was going to be really cut-throat," she remembers. "And yes, classes are serious and you're learning with some of the top students on campus – but you're also making great connections along the way."
Her studies took her around the world: to Dubai on a Global Immersion Elective (GIE), an experiential course in which students learn about business in other countries, and to Copenhagen Business School for a six-week summer program.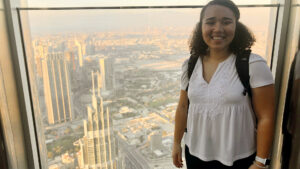 Studying in Dubai was "an experience unlike anything you can imagine." One of her favorite aspects of the GIE was the preparation in advance of the trip: weeks spent learning about the economics, culture, religion, language and food of the region. "Once you're there you're able to see everything you learned fall into place," she says. "That was huge for me in Dubai."
Vickers thought the GIE could be improved by making it more inclusive, so she went to work for the Undergraduate Business Program as a global program specialist, digging into how to build inclusive, cross-cultural experiences, and then as an assistant wellness specialist.
These experiences marked the beginning of Vickers' exploration of higher education and the process by which faculty and administrators guide students to take risks as they explore their careers.
She could see that this was where she wanted to make a difference – and it turned out she would make one sooner than expected.
In the spring of 2020, Vickers was due to start an independent study project with Allison Schlobohm, clinical assistant professor of management and corporate communication. They were to design a study into student engagement at the School, and craft methods for faculty to keep students engaged and motivated throughout their studies.
Then, COVID-19 hit. Suddenly, student engagement became an even more complex project – and an urgent one.
Vickers wasn't daunted. On the contrary, "Allison and I saw it as an opportunity to expand our research," she says.
Together, they produced a list of formal and informal techniques to aid student engagement, based on interviews and practical work with students and faculty. From Kahoot! and educational games, to journaling and self-care exercises, to simply letting students know what wellness resources were available to them through the University, the project blossomed into something far bigger than either had anticipated.
Classmates recognized Vickers as someone you can always count on and who creates an environment that fosters collaboration by selecting her for the Undergraduate Business Award for Teamwork. "Chelsea's agreeableness does not mean she doesn't stand for her values," wrote one her classmates. "Often, women of color have to carry the burden in addressing certain matters, however, Chelsea is happy to start the dialogue on tough issues, because she knows it's something that was right."
Vickers is taking what she's learned and experienced at UNC Kenan-Flagler – into her role as a Carolina College Advising Corps advisor to first-generation, low-income and underrepresented high school students in North Carolina.
She's come full-circle from where she was a few years ago: at the beginning of her own college journey, unsure of what her path would be.
To others in the same position she was, her advice is to take the leap.
"The professional development you get at UNC Kenan-Flagler is unmatched," Vickers says. "You don't have to follow anyone else's path. I'm leaving with a business degree and going into higher education and nonprofit areas, and I feel I got the same value out of this program that other students have."
Part of this value comes from the community. As a woman of color, Vickers took some time to find her own support system, but when she at UNC Kenan-Flagler she sees a community committed to increasing diversity and inclusion.
It was this community that defined Vickers' experience, and it is defined by people like her: those willing to put in the work to support each other towards positive change.
Ultimately, if she can recreate this kind of support for only one student, that would be enough, she says.
"I'm leaving UNC Kenan-Flagler knowing that I had such a strong community here, and I learned so much about higher education and business, and about myself – that's extremely valuable," she says.
"I can't wait to take this excitement and all that I've learned and hopefully change someone's life."
---
More News