Fulbright Sakai Site
Fulbright Sakai Site
Overview
The Fulbright Sakai site is where you can find resources, announcements, past funded proposals, submit your proposals for feedback, and view a master calendar of Fulbright related events.  It is important that you join the site early as all official Fulbright @ UNC communications will be sent through Sakai.
If you are an alumni applicant, or will graduate before completing the application process, please contact the Fulbright Program adviser at
fulbright@unc.edu
 to have your personal email address added to the site.
Steps to Join the Fulbright Sakai Site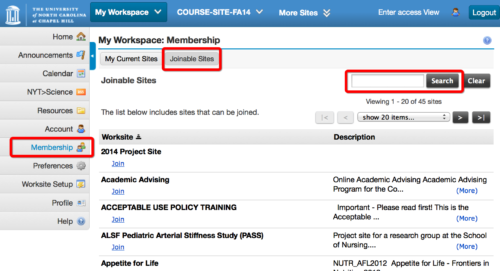 Go to: sakai.unc.edu
Click the Onyen Login button (no Onyen? please contact fulbright@unc.edu to be added manually.)
Enter your Onyen username and password and log in. The My Workspace page will appear.
Click the Membership button located in the left navigation menu.
Click the Joinable Sites button to view the available sites.
Use the Search field (right side of the page) and search for "Fulbright".
Click Join.
The Fulbright Student site should now appear as a tab at the top of the page.
If you have many sites, be sure to look under "More Sites" on the top navigation bar in Sakai. You can then click "preferences" to change the order of sites.
If you encounter any difficulties, please contact
fulbright@unc.edu
to be added manually.